Happiness Secrets - Phit and Phabulicious Podcast #52
Deb Rondeau and Scott Paton
Feb 25 2014
Do you believe your children's happiness is your responsibility? If so, when do you believe that responsibility ends? Are you to ensure they are happy only up to a certain age? If so, at what age are you done… 16, 18, 21, 30? Or do you believe this is a life-long responsibility and giving birth should be the end of any and all dreams you have for your life?
Deb shares last year that I made the decision to leave my marriage after 37 years. This was not a decision I arrived at easily; I struggled with it for many years. My husband and I were great friends, we still are to this day, but I felt like something was missing. I did not believe that either of us were truly happy.
We were very comfortable and while many people are good with comfortable, I felt like something was missing even if i couldn't put into words exactly what I needed at that point. I wasn't getting any younger. My two sons were grown with children and grandchildren of their own. I felt like this was my last chance to find happiness.

Approximately 98% of people born in North America today have a very similar start in life, meaning we are born weighing close to 7lb. Deb Rondeau entered the world at 5lb. 7oz. She was an active child, but yo-yo dieting begun in her teens had her tipping the scales at 430 lbs in 2009 at age 55.
While living a fairly functional life on the outside, just simple things most people take for granted, like using a public restroom or crossing the street, were heartbreaking challenges that could fill her eyes with tears and her heart with shame.
Visit her website: http://www.debrondeau.com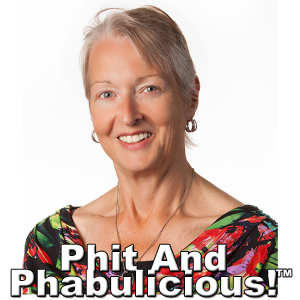 About Deb Rondeau and Scott Paton
Click here to see the full author's profile
Recent Episodes
Time For Good-byes - Phit and Phabulicious Podcast #53
Happiness Secrets - Phit and Phabulicious Podcast #52
Get Your Boomer Body Here! Phit and Phabulicious Podcast #52
Cosmetic Atom Bomb? Phit and Phabulicious Podcast #51
New Year's Resolutions - Phit and Phabulicious Podcast #50
What is Your Purpose? Phit and Phabulicious Podcast #50
Stop the Bullies - Phit and Phabulicious Podcast #49
Naked Grandma Gets Her Sexy On! - Phit and Phabulicious Podcast #48
Sexy Coconuts | Phit and Phabulicious Podcast #47
Surviving Christmas! Phit and Phabulicious Podcast #48