Sexy Coconuts | Phit and Phabulicious Podcast #47
Deb Rondeau and Scott Paton
Nov 26 2013
What can coconut and its oil do for your health?
Plus more tips for surviving Thanksgiving and Christmas.
The theme of our show is "getting your "sexy" back". This takes many forms… from becoming comfortable and accepting your body at any size, to reconnecting with your sexuality, to learning how much fun it can be to finally share the "real" you with the world. QUESTIONS ON MY CONTEST PAGE: What does "getting your "sexy" back" mean to you? What do you do to get and keep your "sexy"? Enter at www.debrondeau.com/Contest.
Prizes: 5 visioning meditation CDs valued at $9.97 each. I will probably choose some other winners at random for various reasons - most creative, most inspiring etc. I will make up 5 extra reasons (assuming I get more than 10 entries lol)

Approximately 98% of people born in North America today have a very similar start in life, meaning we are born weighing close to 7lb. Deb Rondeau entered the world at 5lb. 7oz. She was an active child, but yo-yo dieting begun in her teens had her tipping the scales at 430 lbs in 2009 at age 55.
While living a fairly functional life on the outside, just simple things most people take for granted, like using a public restroom or crossing the street, were heartbreaking challenges that could fill her eyes with tears and her heart with shame.
Visit her website: http://www.debrondeau.com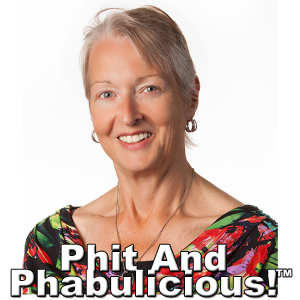 About Deb Rondeau and Scott Paton
Click here to see the full author's profile
Recent Episodes
Time For Good-byes - Phit and Phabulicious Podcast #53
Happiness Secrets - Phit and Phabulicious Podcast #52
Get Your Boomer Body Here! Phit and Phabulicious Podcast #52
Cosmetic Atom Bomb? Phit and Phabulicious Podcast #51
New Year's Resolutions - Phit and Phabulicious Podcast #50
What is Your Purpose? Phit and Phabulicious Podcast #50
Stop the Bullies - Phit and Phabulicious Podcast #49
Naked Grandma Gets Her Sexy On! - Phit and Phabulicious Podcast #48
Sexy Coconuts | Phit and Phabulicious Podcast #47
Surviving Christmas! Phit and Phabulicious Podcast #48