Naked Grandma Gets Her Sexy On! - Phit and Phabulicious Podcast #48
Deb Rondeau and Scott Paton
Dec 08 2013
Deb Rondeau and Scott Paton go floating.
Among the issues that floating has been effectively used include:
Pain Relief
Stress Relief / Relaxation
Mental & Spiritual Well being
Pregnancy Relief
Enhanced Learning
Enhanced Creativity
Beauty
Weight Loss and Addictions
Business Benefits
Athletic Performance
The Cloud 9 Experience: Cloud 9 Float Spa is ideally located in the Tri-Cities in Coquitlam, BC. Cloud 9 Float Spa is a unique new age spa, offering a relaxing, holistic experience the second you walk through the front door. We hold a space where customers are allowed to effortlessly let go, unplugging from the busy outside world and relax. Cloud 9 customers can float in a tank, pod, tub or couples room (personal preference) all luxurious private...
The classic float tank affectionately referred to as the 'space pod' by many. This unit is equipped with an interior light and handrails that aids in easy entry & exiting. We use a whisper quiet fan to ensure airflow and proper ventilation in the tank to ensure the most optimal floating environment is achieved. Relaxing music is playing as you enter the unit and float off on your own cloud.

Approximately 98% of people born in North America today have a very similar start in life, meaning we are born weighing close to 7lb. Deb Rondeau entered the world at 5lb. 7oz. She was an active child, but yo-yo dieting begun in her teens had her tipping the scales at 430 lbs in 2009 at age 55.
While living a fairly functional life on the outside, just simple things most people take for granted, like using a public restroom or crossing the street, were heartbreaking challenges that could fill her eyes with tears and her heart with shame.
Visit her website: http://www.debrondeau.com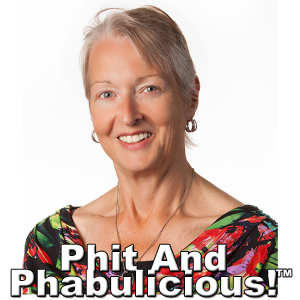 About Deb Rondeau and Scott Paton
Click here to see the full author's profile
Recent Episodes
Time For Good-byes - Phit and Phabulicious Podcast #53
Happiness Secrets - Phit and Phabulicious Podcast #52
Get Your Boomer Body Here! Phit and Phabulicious Podcast #52
Cosmetic Atom Bomb? Phit and Phabulicious Podcast #51
New Year's Resolutions - Phit and Phabulicious Podcast #50
What is Your Purpose? Phit and Phabulicious Podcast #50
Stop the Bullies - Phit and Phabulicious Podcast #49
Naked Grandma Gets Her Sexy On! - Phit and Phabulicious Podcast #48
Sexy Coconuts | Phit and Phabulicious Podcast #47
Surviving Christmas! Phit and Phabulicious Podcast #48